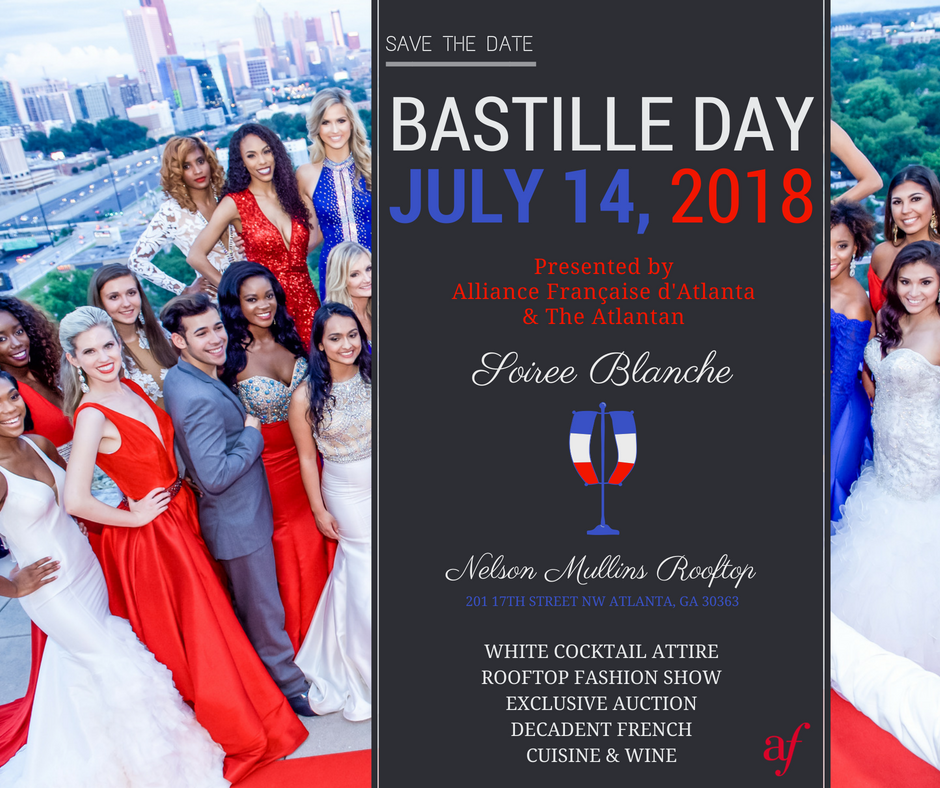 Looking for a way to celebrate Bastille Day without ever leaving Atlanta? Well you are in luck with this years Bastille Day Soirée Blanche celebration and fundraiser. Enjoy an evening of elegant French food and amazing entertainment for a fabulous experience set on Nelson Mullins Rooftop This exclusive view of the Atlanta Skyline provides the perfect venue for a fabulous evening of celebration and fundraising.
This all white evening will include a Rooftop Fashion Show * Photo Booth Experience * Decadent French Cuisine paired with Fabulous Wine * A Treat Station * Live Music * Dancing * Exclusive Auction * And More *
Bastille Day is the The French National holiday that commemorates the Storming of the Bastille on July 14, 1789. This was a turning point of the French Revolution which celebrates the unity of the French people. Marked by spectacular fireworks and huge military parades the national holiday of Bastille Day for most Frenchmen marks the anniversary of the storming of the infamous fortress known as Bastille Prison where the political prisoners were held.
Below are the details for this evening Bastille Day Soirée Blanche!
VENUE DETAILS
Date: Saturday, July 14th, 2018
Time: 7:00 p.m. – 10:00 p.m.
Dress: All White, Cocktail
Location: Nelson Mullins Rooftop
201 17th Street NW, Suite 1700
Atlanta, GA 30363
TICKETS
AF/ FACC Members | $100
Non-Members | $125
VIP | $500
The VIP Reception will begin 1 hour earlier at 6:00pm and will include a champagne reception, passed hors d'oeuvres, and exclusive silent auction sneak-peek. All proceeds benefit educational and cultural programming of the Alliance Francaise of Atlanta.
More information on Bastille Day: Soirée Blanche.
To find out more about Midtown, Buckhead and Atlanta visit House America.