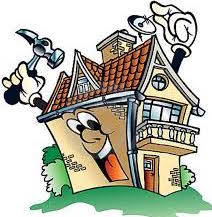 "Ask the Broker" says... Save Money with 3 Easy Home Maintenance Items...
In homeownership the word prevention will save you endless amounts of money. It is easier to prolong the life of items simply by doing ongoing maintenance of systems at certain times of the year. Below are 3 tips to help extend the life of your water heater, garbage disposal and furnace. Remember.... prevention and upkeep are way easier and far less expensive!
DRAIN YOUR WATER HEATER...


Over the course of a year, hard water sediment tends to collect at the bottom of your water heater tank. The sediment deposits reduce the efficiency of your heater, costing you money! To drain your water heater, simply connect an ordinary garden hose to the outlet spigot near the bottom of the water heater tank. Be sure to ONLY drain the water into a sink, tub, or floor drain. NEVER pump the hot water outside as it is sure to kill your grass due to the temperature and sediment in the draining water.


HOW TO SHARPEN AND CLEAN YOUR GARBAGE DISPOSAL...


This is an easy one and often overlooked. Once a month take a cut up lemon and grind it in the disposal. This will eliminate any built up odor. Next add a few ice cubes into the disposal and run the unit. This will quickly and easily sharpen the disposals blades and with an extra bonus give the disposal a good cleaning!



EXTEND THE LIFE OF YOUR FURNACE...
Experts recommend changing your furnace filter once a month. Clean filters reduce the strain on a unit to push out both hot and cold air. Filters are inexpensive and can be easily purchased at most discount department or home supply stores. If you haven't done it in a while, there's no time like the present!
For the Most Current Information about Atlanta Homes for Sale Click Here...
For any questions that you may have about home maintenance Contact Broker, Ann Milano!